New Pokemon Games - The Loop
Play Sound
This article is about the DLC. For the included heist, see Transport.
Armored Transport is the first DLC for PAYDAY 2, and was awarded for free to those who pre-purchased PAYDAY 2 and owners of The COMPLETELY OVERKILL Pack.
Once you have bought the DLC, you will unlock 1 of each item type in your inventory and will now be able to obtain all of them via card drops.
"And now to the best present of them all - the mask pack! Chains loves this part. He gets to pick last everytime though. Poor Chains.

Gage has always been a patriot. What better way to salute this great nation than to celebrate four of the most popular presidents we've had?"
—Announcement site quote.
The Armored Transport DLC masks are based on the faces of various United States Presidents. Their names refer to order in which the person of which they are a likeness served as President. It also pays a reference to the crime-thriller film Point Break where the 4 bank robbers infamously known as "The Ex-Presidents" don the masks of Richard Nixon, Ronald Reagan, Jimmy Carter, and Lyndon B. Johnson. Only the mask of Richard Nixon is in game.
These four masks are also refined versions of the Presidential masks from PAYDAY: The Heist.
"When you got the crew and you got the target, there's one more thing you need. Guns. Loads of guns. Thankfully, Bain's got you covered. The latest shipment from Gage is something special. Some might argue they're only three normal guns, but they don't know nothing. These aren't your ordinary guns. These are the tools of the trade, the heisters choice. Let's see what we got."
—Announcement site quote.
"So, you've bought the DLC, downloaded it, started it up, and robbed some armored transports, having fun with your friends. But, something's missing. You need something else to get your fix. Something on a higher level. Well we got something for you right here, friend. Because for you, the achievements are the juice."
—Announcement site quote.
Trivia
[
]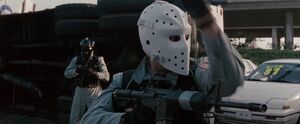 The title card of the DLC is likely inspired by the opening armored transport robbery scene in the film Heat. Additionally, the achievement section quote references a quote by Micheal Cheritto. The Hockey Heat mask is also a reference to Heat.
All three weapons in this DLC have no reputation lock, all of them being unlocked at reputation level 0 and for very cheap.
External Links
[
]
Videos
[
]