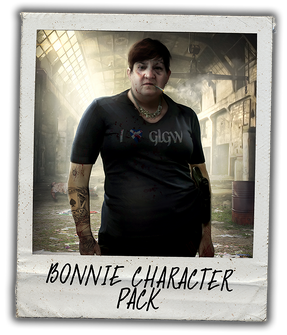 The Bonnie Character Pack is a DLC pack for PAYDAY 2, unlocked on March 1, 2015 as part of The Hype Train community event, at 1,200,000 gallons of hype fuel. It was released on March 15 2015, during the Spring Break 2015 Event (day 3).
Characters
Edit
Requires the player to be part of the PAYDAY 2 Official Group on Steam. Once joined, you will unlock 1 of the "Bonnie" mask in your inventory, but will have to get the "Bonnie Begins" from a Card Drop. The "Bonnie" mask can't drop during a PAYDAY and they can't be sold. They can both be returned to your mask stash for free, but any pattern, color or material as well as the customization fee to put these together will be lost.
Heading into the furnace of battle requires skill, hardness and more than a little luck. Some people just have it.

Luck is an elusive quality. The ancient Greeks believed it was the design of the Gods. It isn't. It certainly exists, but it's something you can earn. It requires preparation and forethought to get your pieces in place, and maximizes your chances of a return. It's counting cards, rather than the blessing of Fortuna.

The Gambler perk deck is a support deck. Anyone can help the team win, but it takes the Gambler to help the team win big.
 
Gambler
Tier 1 (

200

)
Tier 3 (

400

)
Tier 5 (

1,000

)
Tier 7 (

2,400

)
Tier 9 (

4,000

)

Medical Supplies
Ammo packs you pick up also yield medical supplies and heals you for

16

to

24

health.
Cannot occur more than once every

3

seconds.
If the Gambler's current health is lower than another player's, the heal effect on the Gambler is increased by

20%

. Stacks up to three times.

Ammo Give Out
When you pick up ammo, you trigger an ammo pickup for

50%

of normal pickup to other players in your team.
Cannot occur more than once every

5

seconds.
You gain

20%

more health.

Sharing Is Caring
When you get healed from picking up ammo packs, your teammates also get healed for

50%

of the amount.
You gain

20%

more health.

More Healing 1
Increase health gained from ammo packs by additional

8

.

More Healing 2
Increase health gained from ammo packs by additional

8

.
The Bonnie Character Pack is the first character expansion pack to include a shotgun.
External Links
Edit
Community content is available under
CC-BY-SA
unless otherwise noted.