Border Crossing

Heist Info
Contractor
Locke
Contract Days
1
Loud / Stealth
✔ / ✔
Stealth bonus
?%
Loot
N/A
Experience

Extra Statistics
JC Level

30

Minimum Experience
14200 (ovk value)
Maximum Experience
23200 (ovk value)
Contract Cost
120,000 (Normal)
240,000 (Hard)
600,000 (Very Hard)
1,200,000 (Overkill)
1,500,000 (Mayhem)
1,500,000 (Death Wish)
1,500,000 (Death Sentence)
Contract Payout
250,000 (Normal)
500,000 (Hard)
1,250,000 (Very Hard)
2,500,000 (Overkill)
2,750,000 (Mayhem)
3,250,000 (Death Wish)
3,500,000 (Death Sentence)
Bag Limit
100

Other
Internal name
mex
Achievement(s)

v

·

d

·

e
Border Crossing is a PAYDAY 2 heist released on November 7 2019 alongside Border Crystals. It is one of the first new heists to be released since the storyline ended with The White House. Running concurrently to Hell's Island, the Payday gang is tasked with launching a second attack on a Murkywater facility in order to diminish and cut off their supplies.
While the original heisters rescue Bain in Hell's Island, Locke instructs another team of the PAYDAY gang to launch an attack on a compound filled with OVERKILL MC members and fend off Murkywater units.
Objectives
Edit
Purchasable
Edit
Risk Level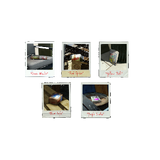 Gage Courier Packages
Walkthrough
Edit
Grab the furthest north ladder for easier access to upper floor of the northern warehouse. It is recommended to hit this area first, as since there are more guards than in the Southern Warehouse, you should still have all 4 pagers remaining in case you make any mistakes.

Also by going to the northern warehouse first, you can immediately take care of the cameras making sections of the map easier to navigate. You also don't have to worry about using a pager as the camera operator is counted as a civilian like on Election Day, Day 2.

When going for Two-Step Verification, its recommended to leave the armor pieces for last, as they are heavy and can cause players to either break stealth by not being able to get out of sight in time, or be shot at by enemies if the day has gone loud.
Variations
Edit
Mayhem+ Changes
Edit
All cameras will be titan cameras.
More guards will be present on both stages.
There will be a vault presented inside the basement of one of the warehouses at the airfield that can be only accessed in stealth with two keycards to reveal the special Roman Armor loot. Once it's opened, the heist could go loud normally.
The FBI Files
Edit
Despite being stealthable, this heist has no stealth bonus attached to it. This makes it not show up when filtered for contracts with stealth bonuses in the Broker.
Playing this heist in VR with collision teleporting enabled prevents transitioning to Mexico, with the player remaining in a heavily culled version of the United States. Disabling collision teleporting before the transition can prevent the issue, hovever, the transition sequence is still somewhat glitched and does not display the "Meanwhile, in Mexico..." message, instead instantly cutting to Mexico, fading to black and fading back in.
If the player secures any of the Murkywater fatigues before the objective to place loot in the plane triggers, it will not count towards Identity Theft, and starting over the only way to earn the achievement.
At the club house, if the player kills everyone on scene before the explosion in the commission room happens, assuming it does, the loud "Find Explosives" objective will trigger, even if the mission stayed quiet otherwise.

Should this glitch happens, players will also be able to place C4 on and blow the tunnel hatch after inputting the password.
Gage Courier Packages
Edit
The Border Crossing Heist marks the first DLC released post story-line closure.

It is also the first to run parallel to another heist, in this case Hell's Island. Canonically the original four heisters rescued Bain from Hell's Island, while Sangres, Sydney, Sokol and Clover launched a second attack on Murkywater. That being said, the player is still free to play as anyone in the heist proper.

Border Crossing is also the second heist to be set outside of the United States, after Boiling Point.
The Silkroad website promotional image bears striking similarities with Breaking Bad's El Camino movie posters. This would make sense due to the amount of inspiration and references shown in game.
The Mexico part of this heist is also the setting of Border Crystals, only with the crew having to cook meth instead of stealing money.
There is a hidden vault featured in the Mexico section that contains a set of Roman armour akin to Murkywater's other facility in the Shadow Raid heist that featured samurai armour.
Community content is available under
CC-BY-SA
unless otherwise noted.