Raise a Floppa - The Loop
Play Sound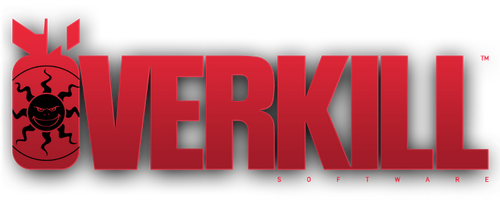 OVERKILL Software is a privately held company that was founded in 2009 in Stockholm, Sweden by Ulf & Bo Andersson, the former founders and owners of GRIN.
They are the creators and developers of PAYDAY: The Heist, PAYDAY 2, the upcoming Sci-fi co-op game, Storm [1] and Overkill's The Walking Dead, a co-op zombie survival game. Overkill was bought out and folded into Starbreeze Studios in June 2012.
Background
[
]
Overkill Software was founded in 2009 in Stockholm, Sweden by the Andersson brothers, who have previously founded GRIN. Alongside them was Simon Viklund, who became the company's head music composer. 
Their first project as Overkill, PAYDAY: The Heist (2011) was a major success for both PC and PlayStation 3, which led to a sequel, PAYDAY 2, released in 2013 to an even bigger praise. Overkill was bought and folded into Swedish game studio Starbreeze Studios in 2012.
Former Battlefield 3 and Battlefield: Bad Company 2 lead designer David Goldfarb joined Overkill for PAYDAY 2's development. In 2014 he left Overkill to start his own studio.[2]
The company is currently affiliated with Croatian studio Lion Game Lion, which was founded and staffed by former Overkill members in July 2014.[3]
In August 2014 Overkill announced their new game OVERKILL's The Walking Dead for 2016. The game is a collaboration between Overkill and the creators of The Walking Dead franchise, Skybound.[4][5]
Their long time project Storm, a sci-fi co-op FPS, was planned to be released in 2017, though with the shifted focus to StarVR and The Walking Dead, the project was indefinitely postponed. Initially starting development as a "PAYDAY in space", the original concept was partly shelved before being merged with Starbreeze's own ill-fated free-to-play project Cold Mercury, and to be released as a team-based VR shooter. As of current, it is unknown if the game is in development hell or has been cancelled, but due to Starbreeze's recent financial problems (and Overkill's, by extension), further work seems unlikely.[6]
From May 2015 to November 2018, the studio was owned solely by Bo Andersson after a falling out between him and Ulf. Despite no longer being a member of the board and Creative Director, Ulf Andersson had remained on board as a primary consultant and was the voice actor for Wolf for a remainder of PAYDAY 2's support period.
After the acquisition of the PAYDAY IP from 505 Games in May 2016, studio executive Almir Listo have confirmed the development of a third PAYDAY game, to be released at an undetermined date.
Games Developed
[
]
Members
[
]
Mikael Nermak - Former Deputy CEO of Starbreeze Studios. Currently operating as Acting CEO of Overkill Software and Starbreeze following Bo Andersson's departure[7] Left in October 2020.
Almir Listo - Producer at Overkill Software and Global Brand Director of Starbreeze Studios[8]
Andreas Häll-Penninger - Game producer[9]
Sadir Samir - Game writer[10]
Ilija Petrusic - Co-Founder, lead level designer (currently working for Lion Game Lion)[11]
Melanie Schneider - Level designer
Patrick Murphy - Level designer[12]
Tobias Remmers - Senior QA for Starbreeze Studios[13]
Jules Marquez - Game desinger[14]
Hampus Gross - QA[15]
Max Elmberg - Creative artist[16]
Pär Antonsson - 3D artist, weapon designer[17]
Jacob Andersson - Animator[18]
Jonas Wallin - Animator[19]
Eddie "Coyote" Eklund - Animator[20]
Tor Helmstein - Cinematics director[21]
Andreas Rönnberg - Level designer[22]
Carl Norén - Composer[23]
"Joe" - Writer[24]
and more unlisted members.
Bo Andersson - Founder, former CEO of Overkill and Starbreeze Studios[25]. Left in November 2018[26].
Richard Blom - Composer, character model and voice actor of Hoxton in PAYDAY: The Heist. Left Overkill Software in 2012.
Ludvig Kingfors - Level designer. Left in 2013.[27]
David Goldfarb - Lead game designer. Left in 2014.[28]
Tomislav Spajic - Senior Artist. Left in 2014.[29]
Ulf Andersson - Founder, head developer, creative director, voice actor and face of Wolf. Left Overkill Software/Starbreeze Studios in May 2015, but remained as a consultant for Starbreeze Studios until May 2017 [30]. Even though Almir Listo promised that Ulf will still be the voice actor and the face of Wolf, Ulf confirmed that he won't do voice acting for Overkill Software/Starbreeze Studios anymore.[31][32]
Gustav Holmström - 3D artist. Left Overkill in August 2015[33]
Sebastian "Caret Caret" Evefjord - Level designer. Left Overkill in August 2015. [34]
Simon Viklund - Founder, musical composer, audio/voice director and voice actor of Bain.[35] Left Overkill Software/Starbreeze Studios in October 2015. [36][37]
Jason Mojica - Level designer. Left Overkill in December 2017.
Gallery
[
]
References
[
]
External links
[
]