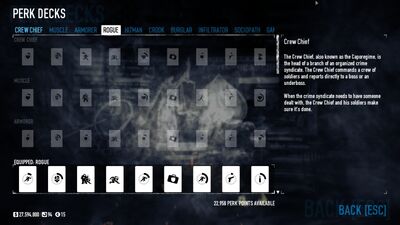 The Perk Decks system was added on Day 5 of CrimeFest 2014, and formed one of the main parts of Update 39 along with an extensive rebalance of existing Skills.
Overview
[
]
Replacing passive tier bonuses, the Perk Decks system allows players to pick from twenty-one different "decks", each with nine perks (though the skills at second, fourth, sixth, and eighth rank are shared between all current decks). Only one perk deck can be active at a time.
Presently, Perk Decks are not reset when going Infamous.
Unlike skill trees which cannot be fully unlocked because of the limited number of skill points obtainable in-game, Perk trees rely on the player's XP income, converted into Perk Points, which is limitless, thus allowing one to eventually unlock/complete all twenty-one decks. This is offset by the fact that the player may only have one active perk deck at a time.
It costs a total of 13,700 Perk Points to fully unlock all 9 cards in a single deck, and 287,700 Points to unlock all 21 decks.
Gaining perk points is simple - after earning XP, go to the Skills & Perks screen and view the Perks Deck tab (selected in the upper left). If you have earned any experience since you last checked the Perk Decks tab, the game will then 'convert' that XP into perk points at a given ratio, which mostly depends upon current player level - as a benchline, round your level up to the nearest 10, then multiply by 10. For instance, at level 45 (rounding up to 50), the conversion ratio will be 500:1.
The conversion ratio is set by the level you were at after the skill points were added to your total, e.g. if you were level 60 (600:1 ratio) when you began a heist, but the experience gained raised you to level 61 (700:1), then the ratio for level 61 would be applied. If you should forget to convert points in between heists, the conversion calculation will apply the level you are at when you do process your perk points, even if the final heist of the series raised you to a higher conversion ratio. For example, if you had not converted points for three consecutive heists and only the final heist had raised your level to 61 (where the 700:1 ratio begins), the 700:1 ratio would still be applied to all the skill points being processed. This means it is to the player's advantage to process this conversion after every heist, just to ensure that no loss of perk points results from applying a higher conversion ratio than necessary.
The experience converted into perk points is not deducted from your overall level progress.
In addition, experience points earned past the level cap of 100 can also be converted into perk points - just visit the Perk Decks tab as you would normally.
Note: If a player goes Infamous with un-exchanged perk points, but has yet to gain a level, the

1000

:

1

XP-to-perk-point ratio of the previous tier's reputation 100 still applies.
However, once you have attained the maximum number of perk points (i.e. 205,500 which completes all perk decks), you will no longer gain any more perk points. Any new perk decks introduced thereafter will require you to earn your perk points again.
After you've earned perk points, you can now spend them on your perk decks. This is as simple as using the + (plus) button under the perk you wish to unlock. As long as a perk has not been fully unlocked, you can withdraw the points at any time by using the - (minus) button under the perk, but once a perk has been fully unlocked you can never get the points back.
Perks are on a simple line progression -- to be able to purchase the second tier perk you must first own the first tier perk, and so on.
Do note that although all perk trees has several common perk tiers, they are
not
shared among each other, meaning that, for example, unlocking the Crew Chief deck's Walk-In Closet perk will still cost an additional
1,600
perk points to unlock it again if one were to switch to a less-invested tree.
Available Perk Decks
[
]
There are twenty-one decks in the game, with each one made up of four mutual perks, and five unique ones.
Mutual Perks
[
]
These are the perks found on each and every perk deck. The number in parentheses (e.g. (200)) beneath the tier number indicates how many perk points must be spent on that tier's skill to unlock it.
Perk Decks
Tier 2 (

300

)
Tier 4 (

600

)
Tier 6 (

1,600

)
Tier 8 (

3,200

)
Tier 9 (

4,000

)

Helmet Popping[1]
Increases your headshot damage by

25%

.

Blending In
You gain

+1

increased concealment.
When wearing armor, your movement speed is

15%

less affected.
You gain

45%

more experience when you complete days and jobs.

Walk-in Closet
Unlocks an armor bag equipment for you to use. The armor bag can be used to change your armor during a heist.
Increases your ammo pickup to

135%

of the normal rate.

Fast and Furious
You deal

5%

more damage. Does not apply to melee damage, throwables, grenade launchers, crossbows, and the HRL-7 Rocket Launcher.
Increases your doctor bag interaction speed by

20%

.

Deck Completion Bonus
Your chance of getting a higher quality item during a PAYDAY is increased by

10%

.


This is given in addition to a perk deck's unique final perk.
↑ Helmet Popping stacks multiplicatively; e.g. only

32

base damage is required to kill an FBI Heavy Response Unit, who has

240

health, because 32 × 6 (headshot multiplier) × 1.25 (Helmet Popping) = 240 damage.
Unique Perks
[
]
The table below shows a comparison between the values that differ per tree. The number in parentheses (e.g. (200)) beneath the tier number indicates how many perk points must be spent on that tier's skill to unlock it.
Megalo-Mania
Have all four players using a fully unlocked Maniac perkdeck and have an average of 65% or more of the white Maniac bar filled.
Trivia
[
]
The name of the perk deck and the Ambidexterity perk's function is likely to be a reference to the Hitman video game series, with the main character of the series, Agent 47, known for being able to wield two weapons at once.
The Ambidexterity perk was released prior to the Akimbo skill. If an akimbo weapon was in the inventory, it would claim that either the Ambidexterity Perk or the Akimbo Skill was required to unlock when the Hitman perk deck was not equipped, leading many to (correctly) speculate that a skill titled Akimbo would later be released.
Despite its description saying your armor will recover after a short period in any situations, having your armor recovery supressed by a Turret wont trigger said effect. This is probably a bug.
The perk OVERDOG can be considered a melee counterpart to the Enforcer skill Underdog, in that the perk conditionally raises the player's melee damage when surrounded instead of ranged. Unlike Underdog, however, OVERDOG's effects can stack.
Four of the deck's five unique perks are named after various chemical compounds that, once introduced to or secreted by the human body, enhances one's cognition (Dopamine), focus (Histamine), pain resistance (Endorphins), and fear inhibition (Adrenaline). As all four can be secreted during rigorous physical activities, like ice hockey per se, their names and effects are somewhat appropriate given the corresponding heister's profession.

Euphoria is the state of intense excitement and happiness felt when the concentration of the above four reaches a high enough level.
The deck's five unique perks are named after various types of irezumi, or body tattoos, that are typically worn by members of the Yakuza.
Ex-President is a reference to the gang of the same name in the 1991 film Point Break, the remake of which is what Bodhi and the Point Break Heists DLC is based on.
Three of the perk deck's unique perks, The Emerging Force, Life of Ice, and Awakening Earth, are challenges from the Ozaki 8, a set of extreme sport challenges designed to honor the forces of nature that the 2015 Point Break revolves around. The Perfect Line refers to what is supposed to be achieved in these challenges, and Point Break is rather obvious.
The deck's five unique perks are all named after songs, mainly punk rock.
Three of the deck's perk's names are quotes from Tony Montana in the 1983 film Scarface.
Bad Guy Coming Through is from his speech in the restaurant scene after getting in an argument with Elvira Hancock.
Play Rough is from his speech in the final scene.
Right to the Top is from the scene where he proposes to Elvira Hancock.
The deck's effect of giving the player higher durablity and healing is possibly a reference to Tony's cocaine and rage fuelled last stand, where he was shot multiple times, though he shrugged his injuries off relatively quickly and continued to fight until he was disarmed, and even then he took a massive number of bullets to his torso before he was finally killed.
It also functions quite similarly to the "Balls Meter/Rage Mode" in the 2006 game, Scarface: The World Is Yours. When rage is activated, Tony will be immune from damage and heal himself with every kill.
All of the perks exclusive to this deck are, appropriately, named after terminology primarily used in computer science and security.
Gallery
[
]