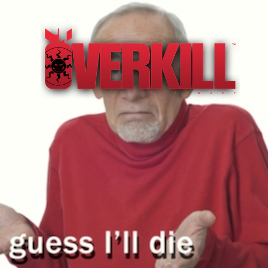 Hi!
CURRENTLY BANNED ON PAYDAY 2 COMMUNITY AGAIN, LOWERING INTEREST IN MODIFYING WIKI.
Check my mods if you like...
Epic Save
Edit

Most epic moment I've had in Payday 2 so far...
Useless me stuff
Edit
Hiya... Hassat Hunter here, just stopping by once in a while. Overkill kinda killed my interest in the game, and by extension my desire to keep stuff here up-to-date on their crap game.
Usually play 2-player and 2-bots (though recently mostly solo *sob*)
Can't do OD (cause too Solo)
Suck at stealth
Is cheapskate Dutch person, so only gets DLC on sale, not release. Doesn't do micro-transactions, but does sell all his safes/drills for cash! (That was till the mobile authenticator anyway... *sobs some more*). So obviously I don't own the out-of-place YouTube DLC pack. Meh.
Do you want to know more?
Favorite heists
Edit
Crime.Net Noise & Waste (Least favorite heists)
Edit
Favorite masks
Edit
Lynx. DUH.
Tony (Tiger)
Lycanwulf (Werewolf)
Anubis (Anubis)
Borsluk (I have no idea but I like it)
Fox & Cat
Kento event Lion
Character
Edit
Rust (needs medic lines for me to play him again though)
Swapping them around :/
Favorite weapons
Edit
Primary
Secondary
On the first day of CrimeFest
Edit
Overkill gave me:
0.11 euro for a CrimeFest 2 safe
0.06 euro for a CrimeFest 2 safe
0.07 euro for a Golden Flakes skin
0.35 euro for a Assault Wave skin
1.55 euro for a CHIMANO CUSTOM PISTOL | Gluckseliger Uberfall, Battle-Worn
It was the worst day of my life.
Then Valve told me I wasn't allowed to make money anymore. Or reviews. Or [TBD].
Do You Want To Know More?
Edit
I doubt it... but feel free to ask otherwise...
Community content is available under
CC-BY-SA
unless otherwise noted.